How to Build a BirdNET Listening Station
BirdNET is real-time acoustic bird classification system for the Raspberry Pi 4B, 3B+, and 0W2 built on the TFLite version of BirdNET. BirdNET is an AI algorithm developed by a a joint project of the K. Lisa Yang Center for Conservation Bioacoustics at the Cornell Lab of Ornithology, and Chemnitz University of Technology.
This BirdNET listening station includes the following features:
Waterproof outdoor enclosure with external PoE (Power over Ethernet) Ethernet port
Weatherproof external USB Mic port.
24/7 recording and BirdNET-Lite analysis.
Bird identification by analyzing spectrograms.
Spectrograms available for all extractions.
Data and analysis viewed using a standard web browser. 
Live streaming audio.
BirdWeather integration.
This post will cover how you can build your own BirdNET system for discovering the birds in your backyard that you never knew were there! Below are a list of items you will need to build your own BirdNET station.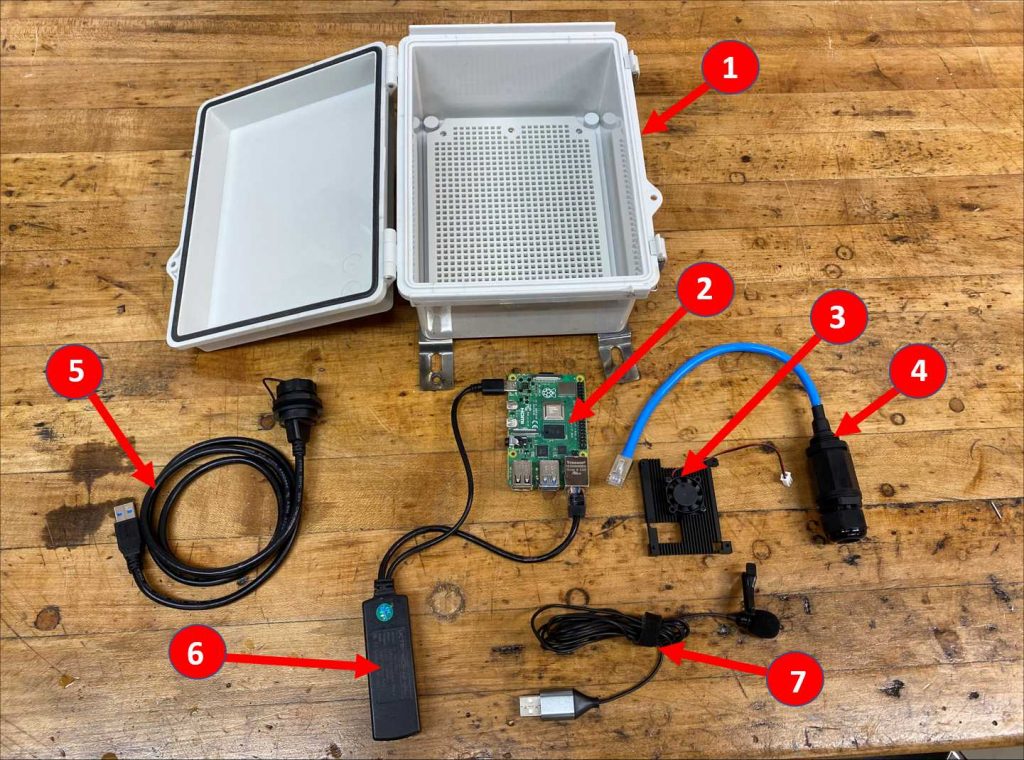 Total cost to build a Bird-Pi system is around $125.
Before you start assembling the BirdNET system you will need to copy the BirdNET-Pi software on to your 64Gb micro SD card. Click here for the Installation Guide.
Plug in the PoE adaptor into the Raspberry Pi power port and ethernet port as shown below. Then install the fan using the longer brass hex spacer screws that come with the fan kit.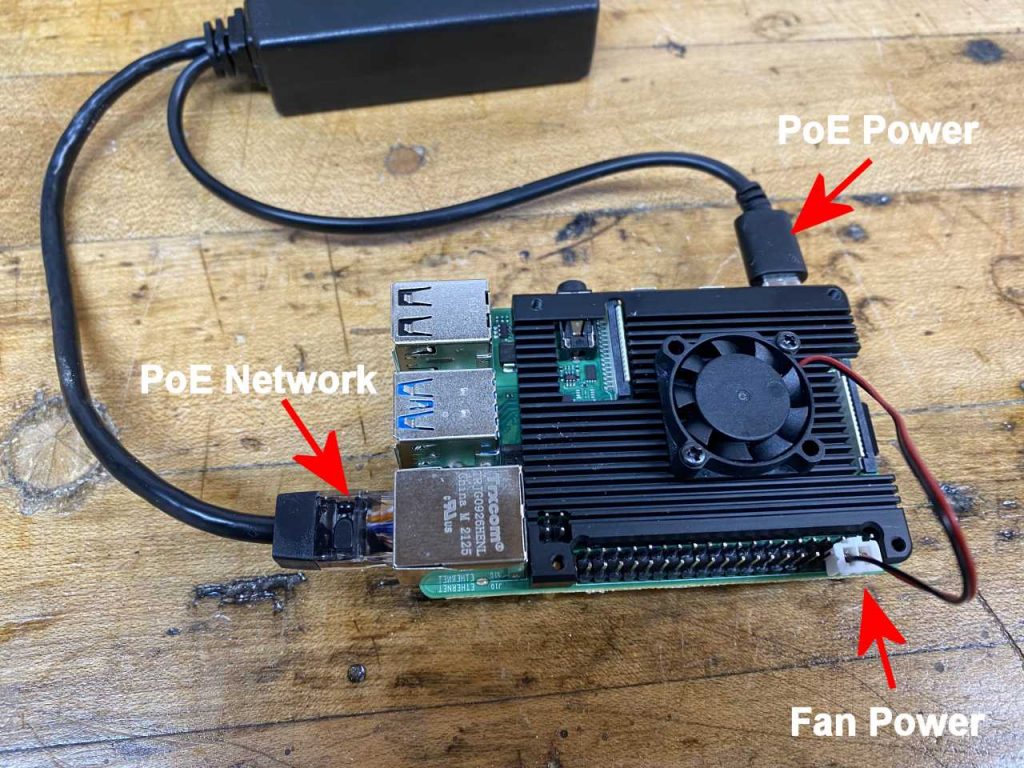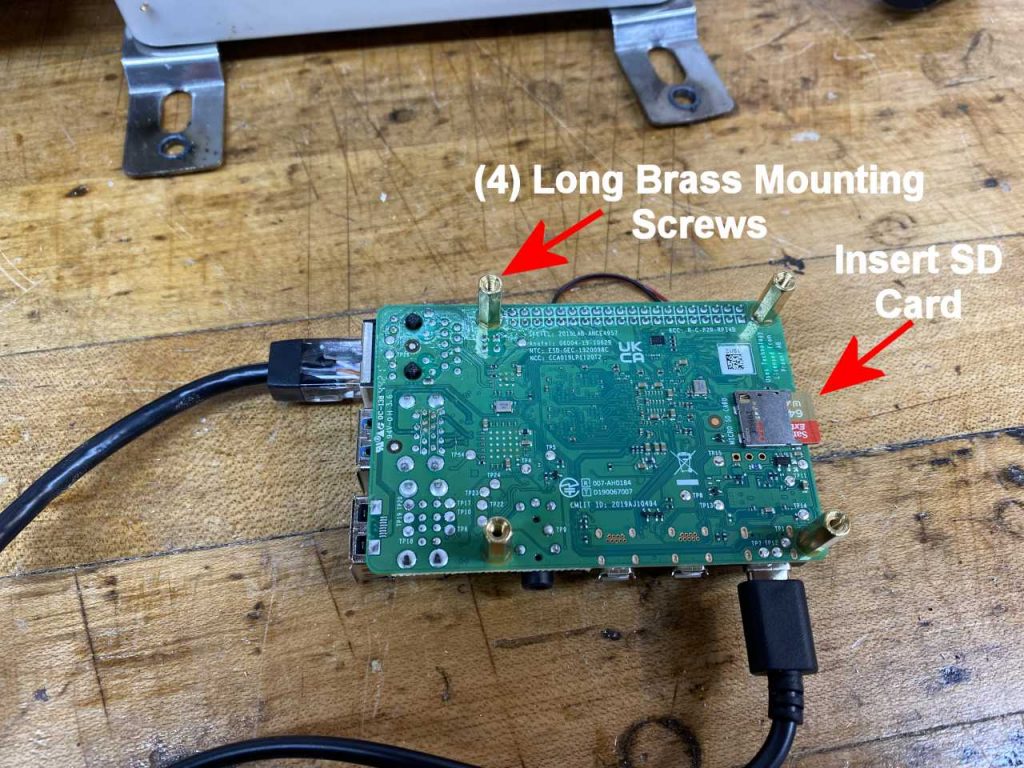 Mount the Raspberry Pi board to the enclosure mounting plate. Place the Raspberry Pi board in the location shown below and mark the locations of the brass hex spacer screws. Use a 1/8″ drill bit to drill out the hole locations and mount the board with the long black machine screws that came with the fan mounting kit.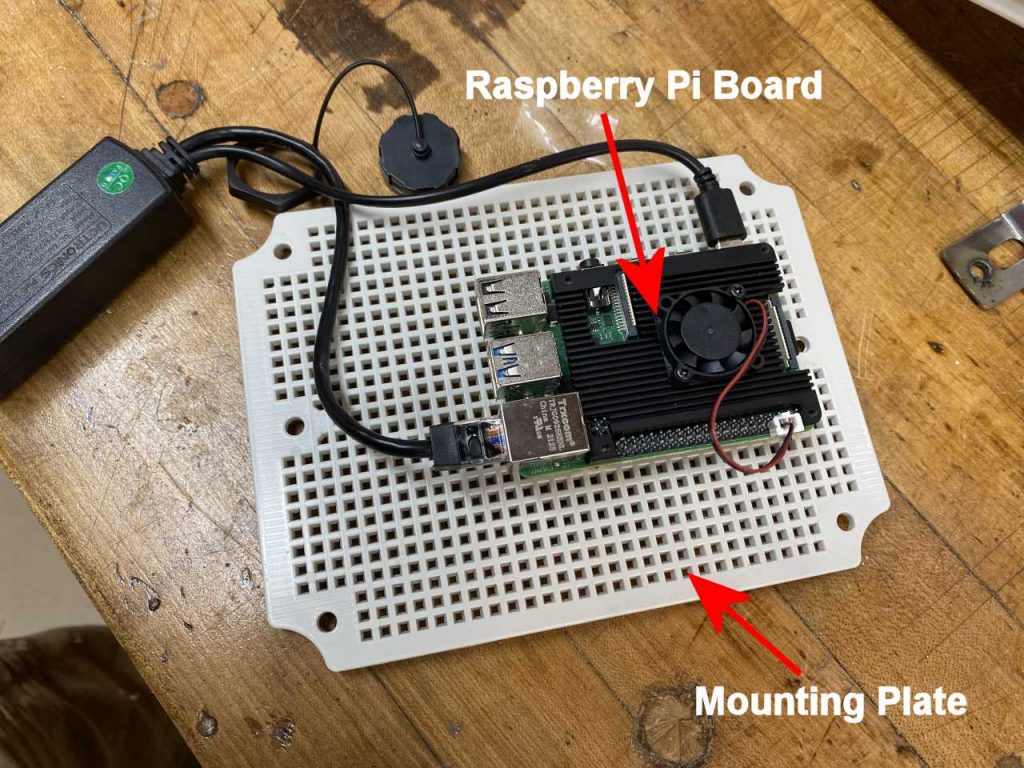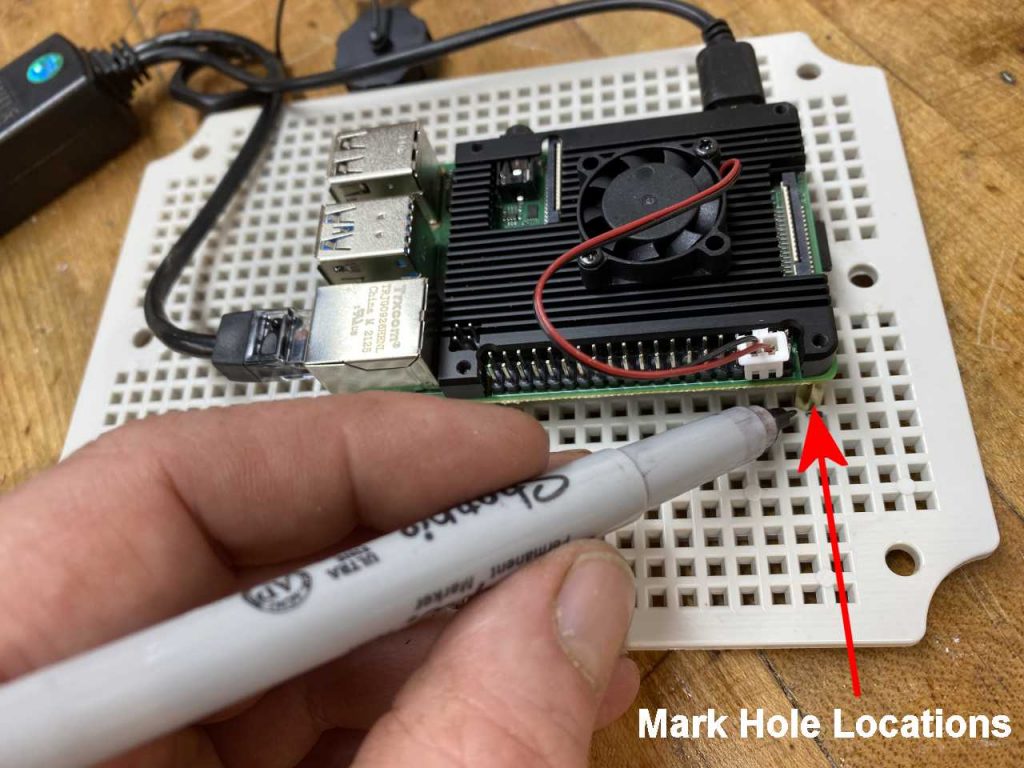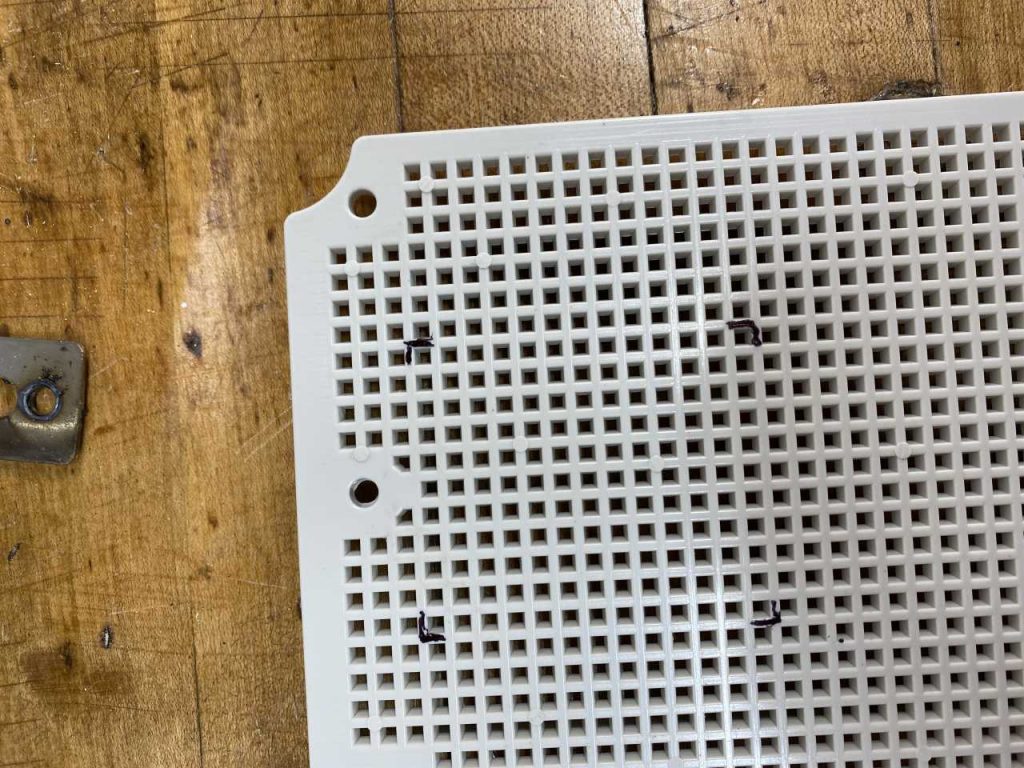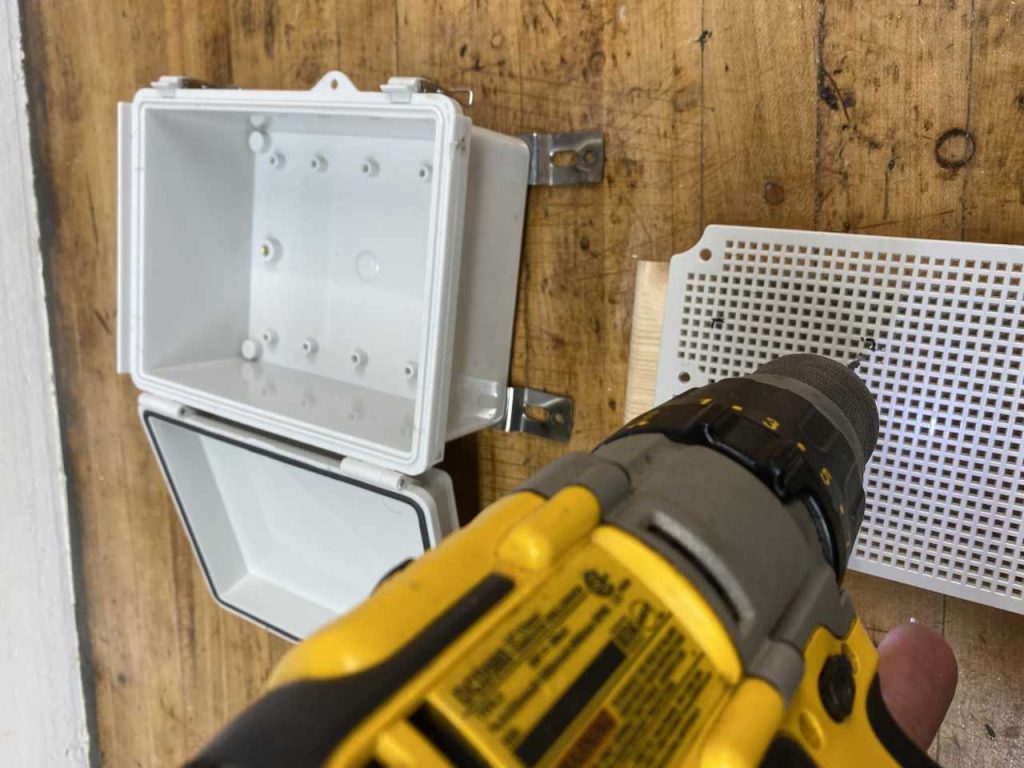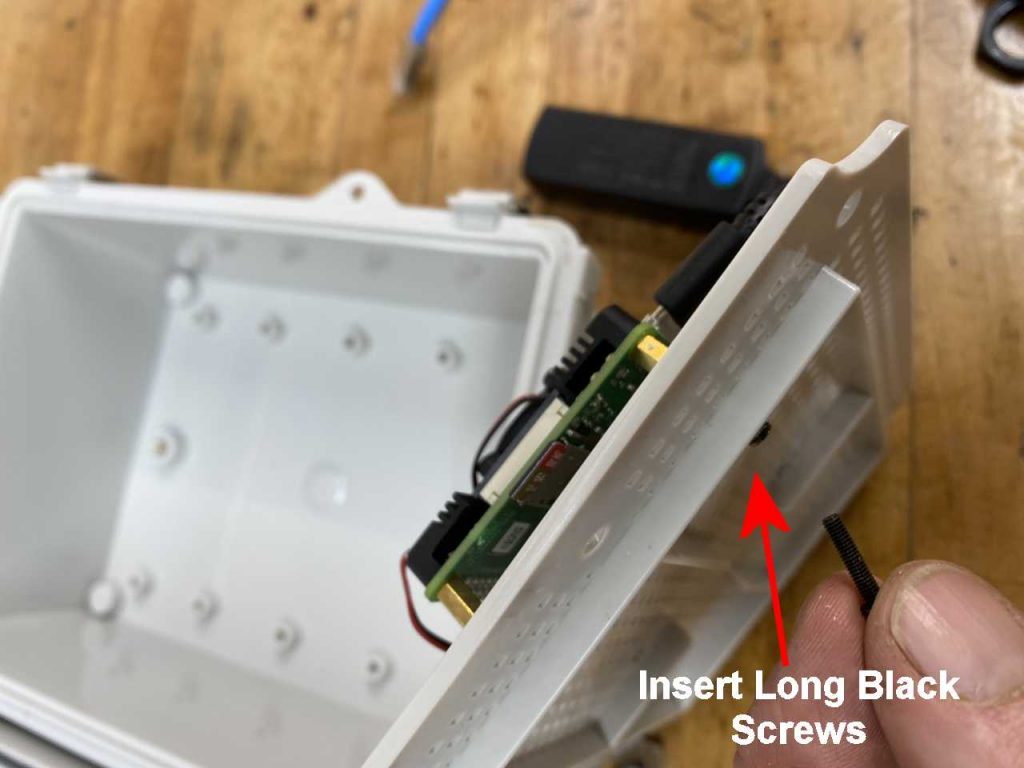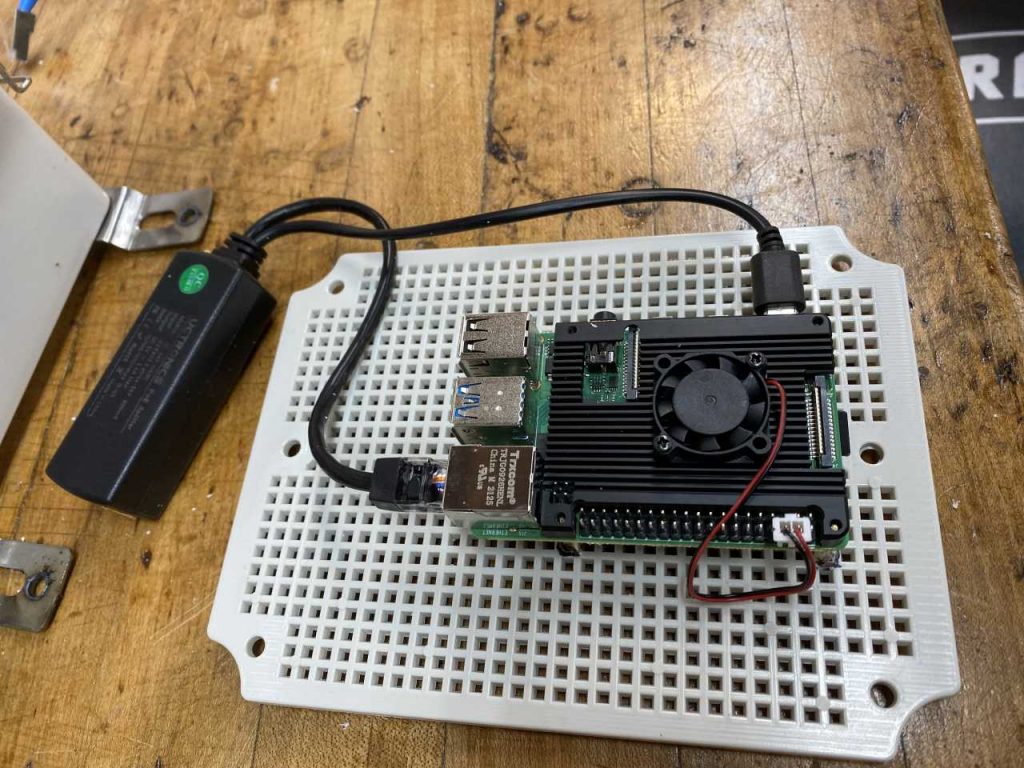 Next, mount the external PoE Ethernet cable and external USB cable in the waterproof box. Note the locations of the holes for both below. Use a 7/8″ drill bit for the USB connector and a 3/4″ drill bit for the Ethernet connector. We have found the forstner bits work best for this type of hole.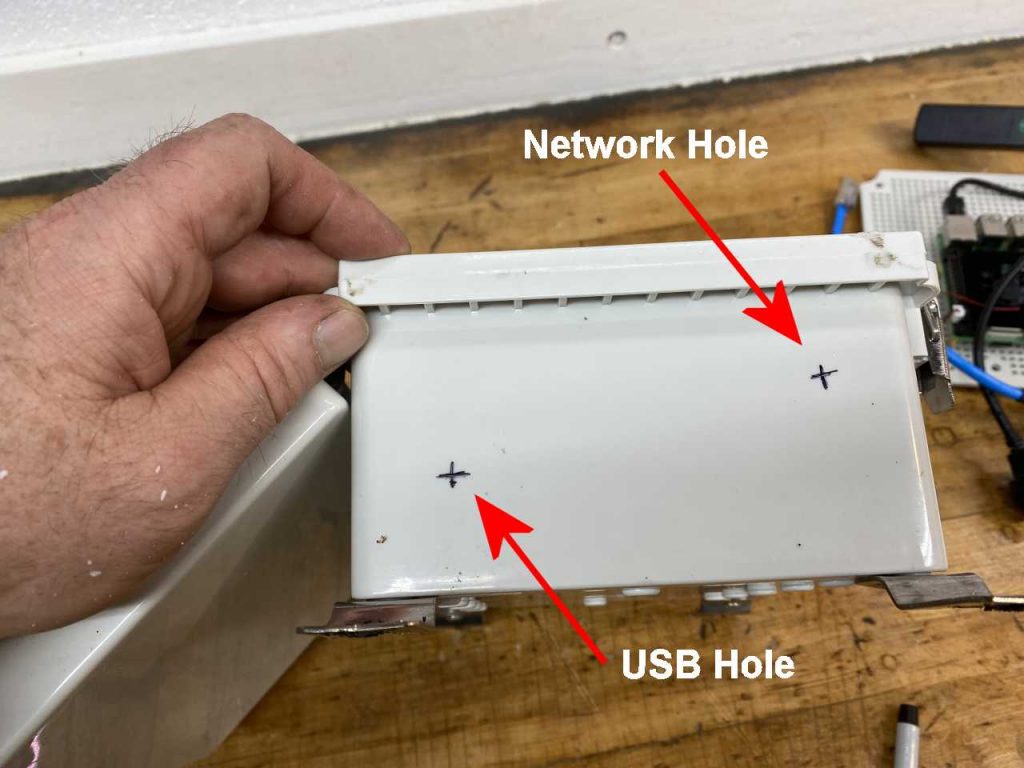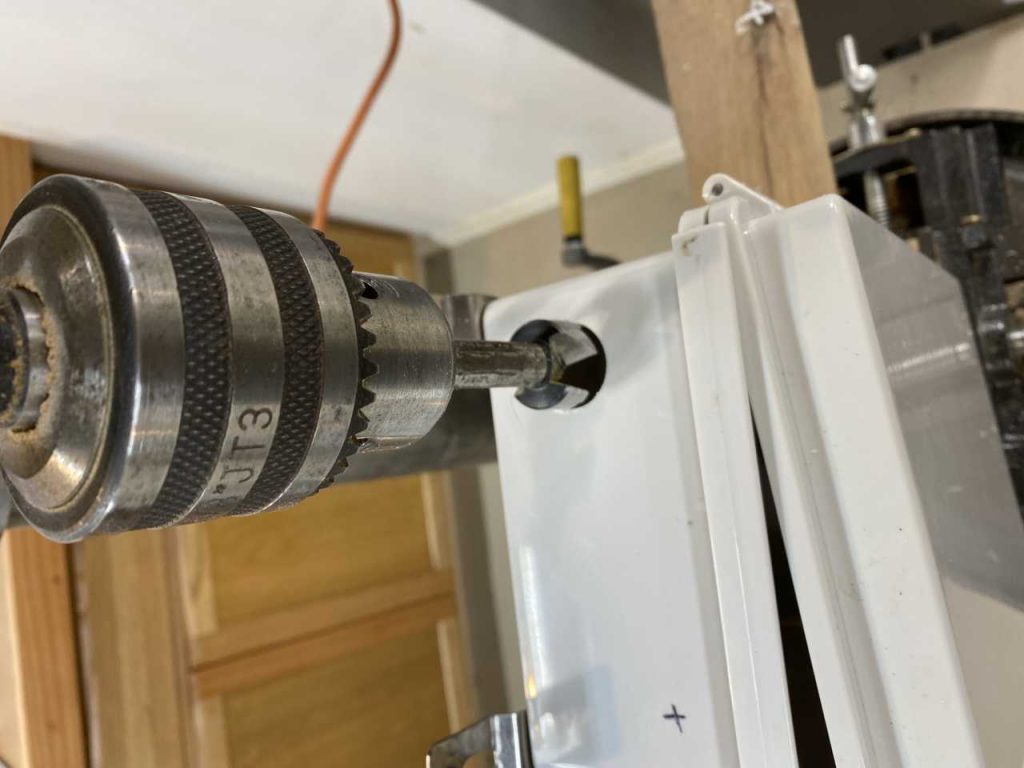 Insert the USB and Ethernet cables into the drilled out holes.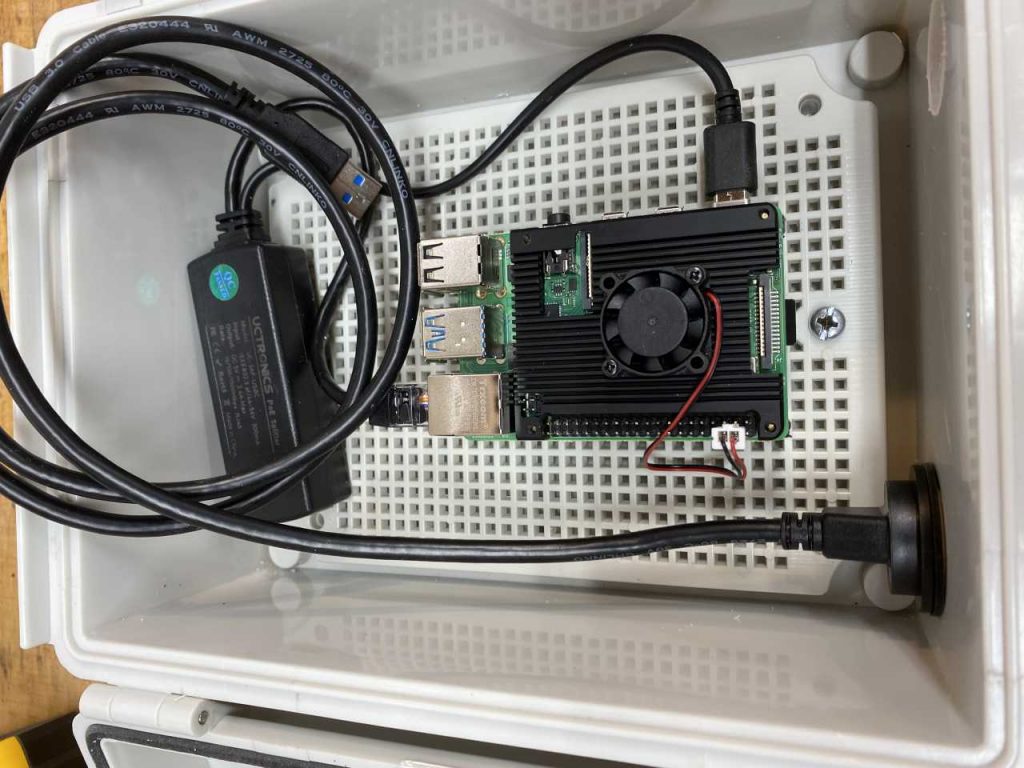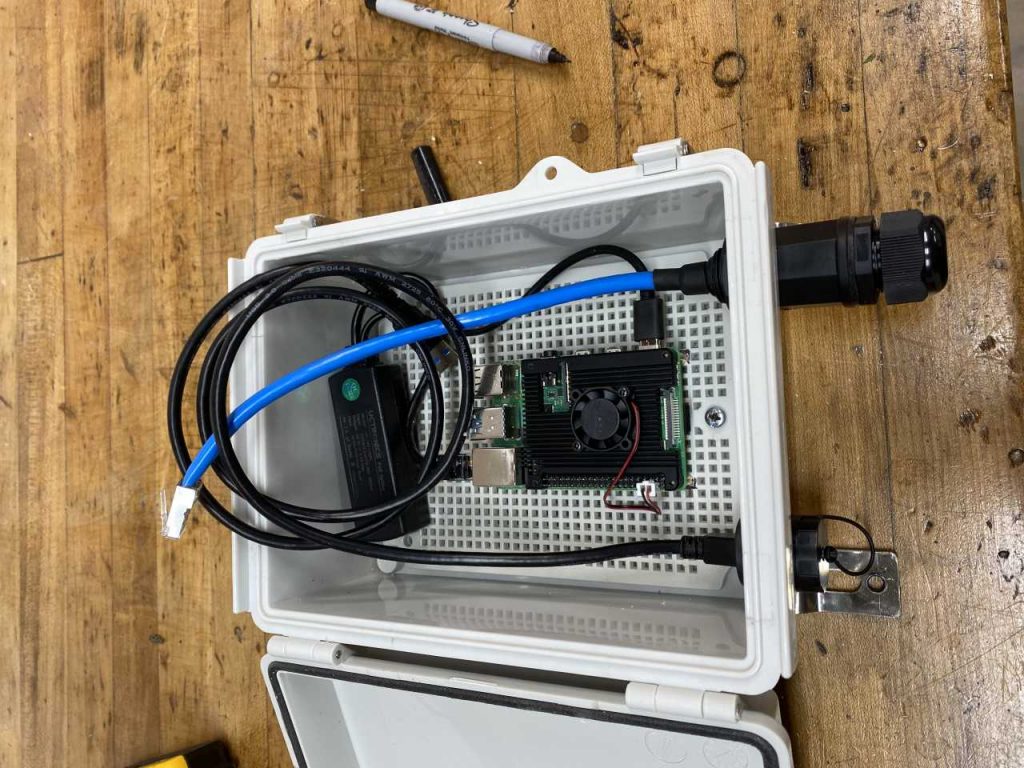 Plug the Ethernet cable into the PoE adaptor and plug the USB cable into the USB port on the Raspberry Pi board as shown below.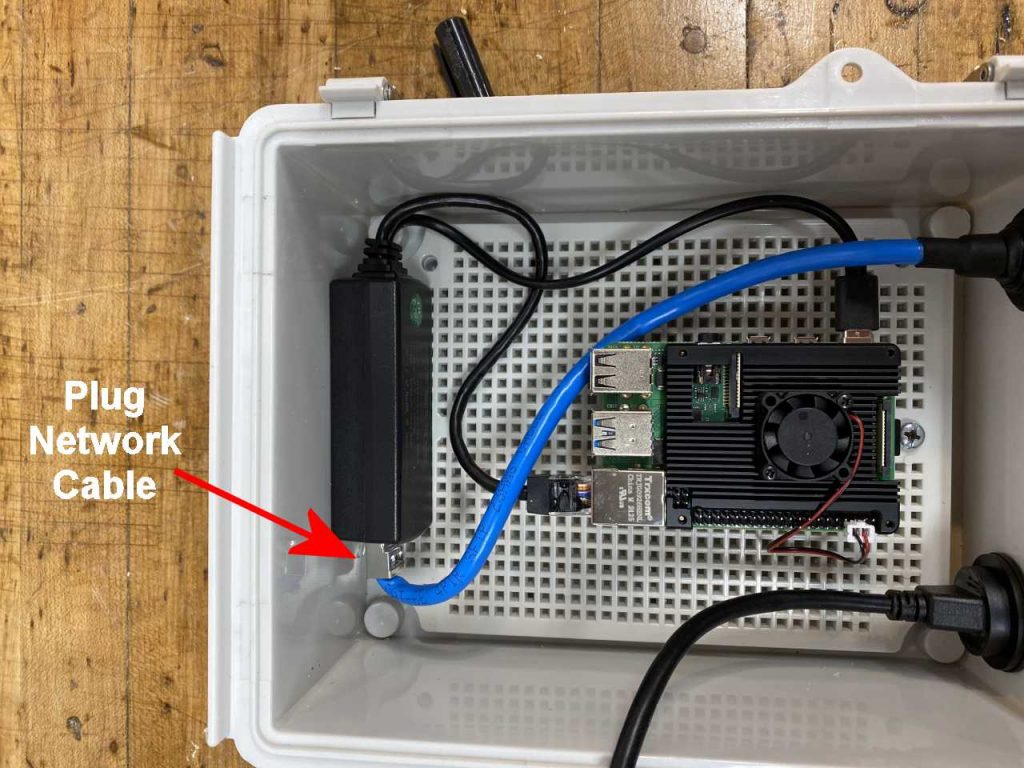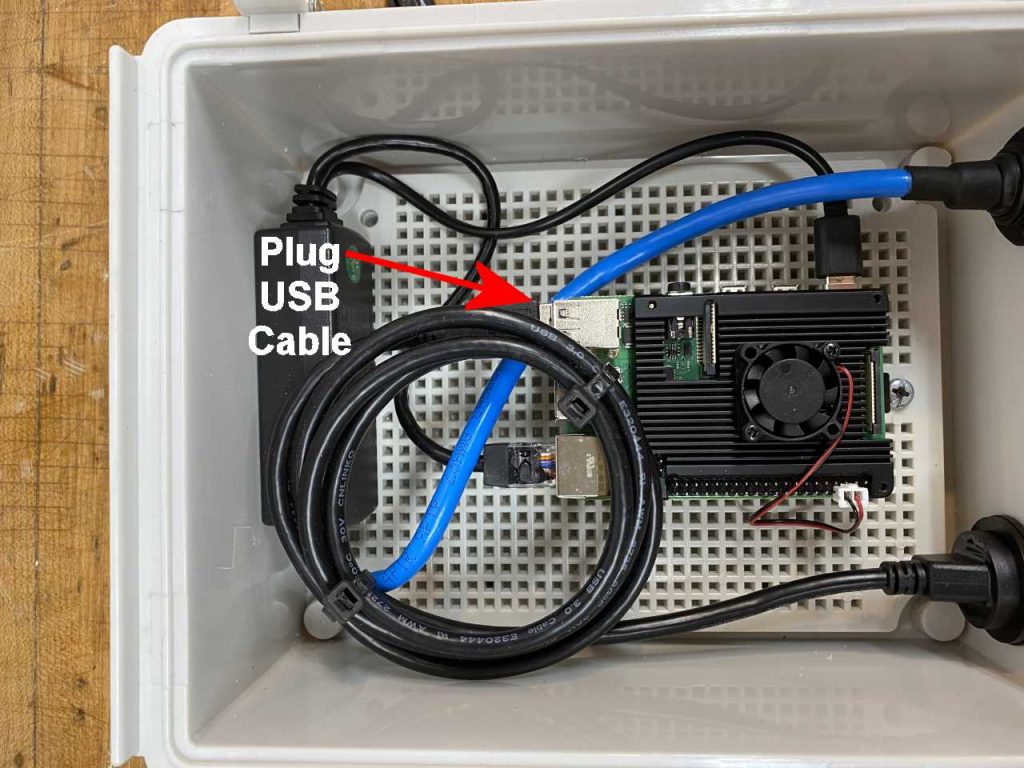 Congratulations! You have completed the BirdNET listening station. Below is an example of the BirdNET station mounted in the field. You can see the live data here:  http://pixbirdnet1.hopto.org
This BirdNET station is powered by a PoE Ethernet cable. This requires you to run an Ethernet cable to the BirdNET box. In order to power the unit you will need to install a PoE injector at your switch or router or use a PoE switch. Here are some links for these parts you can purchase on Amazon.