First ever live broadcast of a black bear birth
January 2010: For the first time ever the entire world will have access to a streaming live webcam feed from inside the den of a wild hibernating female black bear named Lily. Located near Ely, MN, PixController, Inc. set up a streaming camera system inside the black bear den and an pan-tilt-zoom camera outside the den. The system streams the audio and video feed via an Internet connection for all to see.
The camera was a partnership between PixController, Inc. and the North American Bear Center headed by Dr. Lynn Rogers.
On January 25, 2010 Lily gave birth to a female cub named Hope with over 50,000 people viewing the birth live. Dr Lynn Rogers, who is known as the "Bearwalker of the Northwoods," has known Lily since she was born in January 2007. Dr Rogers, who monitored every moment of Lily's 21-hour labor with colleague Sue Mansfield, said: "We were seeing stuff we've never seen before. It was like she was having some contractions that were out of control."
The story was featured twice on the popular NBC Today morning show and was published in newspapers all over the world.
First ever live streaming bald eagle webcam in PA
A webcam trained on the historic bald eagle pair — the first pair to nest within the city of Pittsburgh in more than 150 years — attracted almost 3.5 million views for its inaugural webcast in 2014. PixController, Inc. designed and installed this custom webcam on December 20, 2013.
The area the eagles nested in did not have any power or Internet access. A custom pan-tilt-zoom cellular transmitted and battery/solar charged camera was custom designed for the project.
The pair of eagles successfully fledged three eaglets in June.
The enormously popular camera and live media stream provided many students, cancer patients, and home bound people with a window into nature.
The Pittsburgh bald eagle webcam captured the national spotlight from ABC, NBC, CBS, and Fox News.
Public interest in the birds has been intense as PixController has counted more than 3 million webcam views. And people have been watching the birds from the Three Rivers Heritage Trail, below the bluff.
ABC World News with David Muir 3-30-2014
NBC Nightly News Tuesday, April 2, 2014
EarthCam Worlds 25 Most Interesting Webcam 2007

New York, December 13, 2007 – A wildlife webcam designed and operated by PixController, Inc. was selected by EarthCam as a winner of the 2007 "25 Most Interesting Webcam" award.
EarthCam, the world's favorite webcam network and recognized authority on the Internet camera industry, today released its ninth annual list of the world's most interesting webcams.
This 9th annual list includes the most unique and compelling webcams in the world. Selected from thousands of nominees, winners were judged on quality of image, uniqueness of content and overall technical achievements in webcam technology.
EarthCam producers search through more than 5,000 webcams throughout the year to choose 125 semi-finalists that a VIP panel of judges votes on to select the winners. The 2007 list offers some of the most stunning scenic cams to date, including dramatic live deep-sea views, picturesque and exciting travel destinations and an assortment of whimsical and unique entries from 12 countries.
The VIP judges included Bay, Director of the blockbuster "Transformers", and Josephson, producer of the current number one movie, "Enchanted", joined other prominent judges from entertainment and business including Olympic Silver Medalist Gordy Sheer, Director of Marketing and Sponsorship for USA Luge; Lisa Hungness of the WildCam Program at National Geographic Society; Charnsin Tulyasathien, Sprint Product Management for Consumer Applications and GPS Solutions; Stefanie Luciano, VP of Marketing for Mountain Sports Media; and Ken and Sheryl Borton, producers of Gaylord, Michigan's world famous "Snowman Cam", a winner from last year's 25 Most Interesting Webcams.
Audubon Society James H. Hardie Award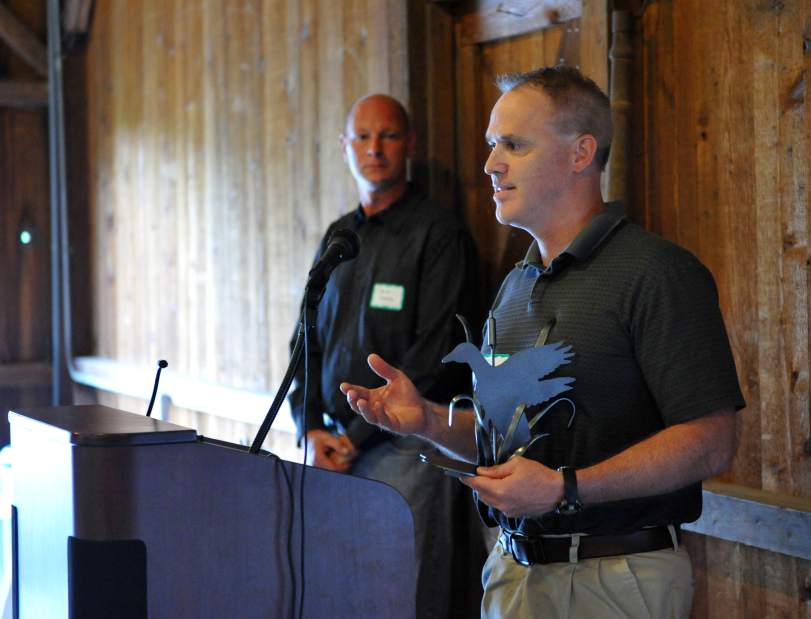 PixController, Inc. receives the 2014 Audubon Society James H. Hardie Award for outstanding environmental stewardship. The almost 3.4 million views of a webcam trained on the bald eagle nest in Pittsburgh's Hays neighborhood netted PixController of Murrysville an environmental award from the Audubon Society of Western Pennsylvania.
The video camera captured the successful hatching, raising and fledging of three eaglets this summer to a rapt audience of watchers from schoolchildren to senior citizen centers.
"Honoring PixController was an obvious choice for us this year," said Jim Bonner, executive director of the Audubon Society of Western Pennsylvania.
"The webcam was responsible for more people watching nature in the region than anything else this year," Bonner said.