BirdKiss AI Smart Bird Feeder
One of the hottest topics in the technology world today is Artificial Intelligence (AI). In recent years AI is now moving quickly into the bird feeder market with the innovation of the new Smart Bird Feeders. These new Smart Bird Feeders are designed to capture and identify the birds coming to your feeder using AI.
We recently received the new Smart bird feeders by the company BirdKiss at PixCams to review. The Birdkiss smart bird feeder camera is designed to automatically catch all the incoming birds and APP real-time notifications. You can see the bird activity up close anywhere anytime. It also collects videos for viewing and shares with your friends and family.
Product Link: https://mybirdkiss.com/products/bird-kiss-smart-bird-feeder
The retail price of the feeder is $250 USD.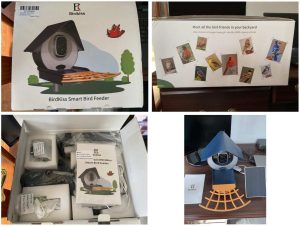 The bird feeder comes in a nice large box with a very well written instruction booklet. The kit includes the bird feeder system, a feeding perch that includes threaded inserts for a fruit feeder, camera charging cable, and a big bonus this system includes a solar panel! The bird feeder camera includes an external antenna that connects to your home WiFi system and includes an internal rechargeable battery. No batteries needs for this system which is another big plus. You will need to download the simple to BirdKiss phone App to configure the camera to your home WiFi.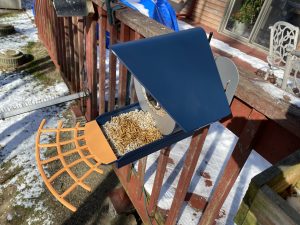 Filling the feeder is very simple too. The bird feeder roof lifts from one side to fill the hopper full of see. The feeder holds enough for up to a couple days of see if you have an active feeder.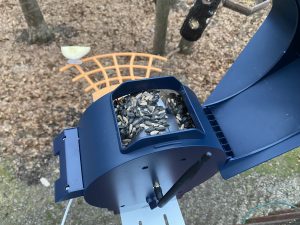 We have found the battery life to be excellent. With the solar panel installed the battery stays around 100% all the time even with capturing and sending 50 photos a day.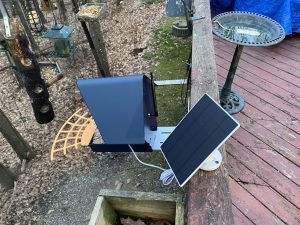 The bird feeder also comes with a heavy metal mounting bracket that can attach to your deck, a wooden post, a tree, and the bottom of the bracket has a mounting hole to mount to a 1″ metal pole.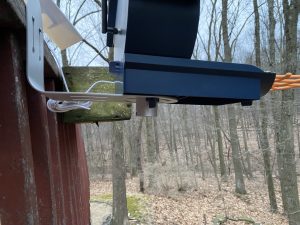 The BirdKiss Phone App will let you watch a live video stream anytime you want. The video quality and sound are amazing too!
The BirdKiss App also has a feature to detect and identify the bird using AI. This is a pay feature that will cost you around $4 USD a month. We found the AI feature needs quite a bit more training to make it accurate, but over time I am sure BirdKiss will improve the AI bird classification feature. This is one of the main reasons we were interested in this bird feeder system and look forward to the AI detection and classification improving in the future.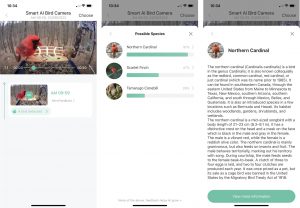 Here are a few videos captured from the BirdKiss Smart Bird feeder